Keep your building looking perfect with power washing
Keeping your building looking clean and inviting is a full-time job and one that you don't have to for. This is where the power washing specialists at Pro Cleanings come in. We provide your business with the state of the art and precision power washing services designed to deep clean your property and remove caked-on dirt, grime, mold, and more.
At Pro Cleanings, we believe your business deserves the highest level of excellence, which is why we utilize state-of-the-art technology and equipment along with innovative cleaning techniques to keep your building looking perfect with power washing services.
We've been the premier power washing partner of businesses in the New York, New Jersey, and Pennsylvania area for over eight years. Your ultimate satisfaction is our top priority, which is why we complete every job with the highest level of attention to detail and unrivaled expertise and experience.
Call the commercial power washing pros at Pro Cleanings today and experience the ultimate upgrade in your curb appeal and cleanliness!
The Difference is the ProCleanings Approach
Our competitors try to keep up with the superior power washing we offer, but they fall short every time. That's because the Pro Cleanings approach is one of a kind. No one understands what it takes to remove unwanted dirt, grime, mold, and more like our highly trained and experienced power washing technicians.  We hire only the most highly trained cleaning experts to ensure that your business receives the most dedicated and comprehensive commercial power washing services possible.
Our power washing specialists utilize the most advanced, cutting-edge technology and equipment to provide the deep cleaning your building deserves. Every technician we hire understands the highest level of commitment required to thoroughly clean and disinfect your business' surfaces. With Pro Cleanings by your side, your building will shine like new every time.
Type of Surfaces We Wash by Pressure Washing
At Pro Cleanings, we are your ultimate source for all your commercial power washing needs. There is no surface we can't tackle, including:
Brick walls and decks
Concrete and Pavement
Natural Stone
Wood
Stucco
Outdoor furniture
Painted Surfaces
And many more!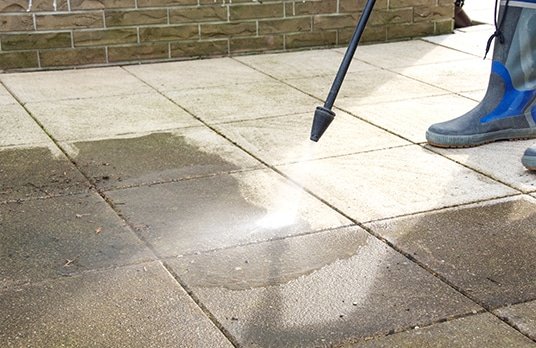 The Benefits of Power Washing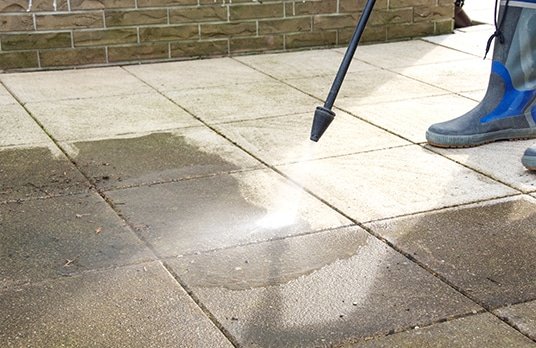 There's nothing like the shine of a freshly building to bring your customers pouring in. Your customers count on your business to offer them a safe, clean place to shop. With our comprehensive and cutting-edge commercial power-washing solutions custom-built for your business, we deliver that safety and cleanliness every time.
There are many benefits of power washing for your business. Let's look at a few of the most critical ones.
Improve your curb appeal: Power washing from the specialists at Pro Cleanings helps improve your curb appeal. Whether you're looking to attract more and new customers or you want to spruce up a property to sell or lease, our comprehensive pressuring washing services are designed to improve your curb appeal from top to bottom.
Prevent Repairs: Your building is constantly beaten down by the elements, and if you're not able to properly clean it, things like mold and mildew can build up on the exterior. This only leads to costly repairs you can't afford when left unaddressed. Pro Cleanings innovative commercial power washing solutions are designed to remove the impacted and caked-on dirt, grime, and mold that eat away at your exterior.
Save You Money: We partner with your business to deliver a truly unparalleled level of attention to detail and customized cleaning solutions built around your budget. We understand that every building and client is different, which is why you only pay for the services you need.
Power Washing vs. Pressure Washing: Which Do You Need?
When it comes to knowing if power washing or pressure washing is best for your property, it's essential to understand their differences. The most significant difference between pressure and power washing is the heat used in power washing. The jet wash inside a power washing machine uses heated water, whereas, with a pressure washer, it's just pressured water.
Power washing is designed to provide a deeper, more targeted cleaning solution for those more challenging to remove build-ups that come with mold, mildew, and more. If you're searching for the ultimate cleaning partner, Pro Cleanings revolutionary commercial power washing services have got you covered. Stop wasting time searching for commercial power washing services near me and call the only specialists that can deliver at Pro Cleanings today!
The Agents of Change for Power Washing
We don't just have the methodology but the values, too. Our company prides itself on cleaning in a socially and environmentally responsible way. Our cleaning is both principled and effective. We utilize a "Top Down & Backout" method for every property. This allows us to tackle even the most debris-filled or dustiest site around. When you're looking for a
Power Washing that leaves no trace of your crew, ProCleanings is your solution.
Reach out today to find out how we can help to clean your site!
Your customers and your employees are important:
CORRECTLY APPLY EPA REGISTERED DISINFECTANTS !